What are some popular apps in the Clover App Market?
Khalid Saleh
Do you own a Clover point-of-sale system? If so, you're in luck! The Clover App Market is home to hundreds of apps that can help you run your business more efficiently. But with so many options available, which apps should you download first?
In this article, we will discuss 5 popular app categories found in the Clover App Market.
1. Online Ordering Apps for Clover
2. Time Management
3. Tax Automation
4. Payroll Integration
5. Donations for Non-Profits
Online Ordering Apps for Clover
The pandemic has forced many businesses to change the way they operate, and one of the most noticeable changes has been the increase in online ordering. Whether it's ordering food as a Pick-Up from a restaurant or requesting delivery, more and more people are using Online Ordering apps to make their purchases. Therefore, it's no wonder that one of the most searched and used apps on the Clover App Market are Online Ordering Apps.
There are several reasons for this trend. First of all, it's simply more convenient for customers than going out in person. Customers can avoid long lines and crowded spaces. And with many restaurants now offering delivery or pickup options, merchants need to find an Online Ordering App that offers maximum benefits to their customers, prints the orders to the Clover Device and reduces 3rd party fees.
If you're looking for a reliable and user-friendly online ordering app, Smart Online Order is a great option to consider. With over 150 five-star reviews, it's clear that customers are happy with the service. And Clover, a leading point-of-sale system provider, has even ranked it as a "must have" app for businesses.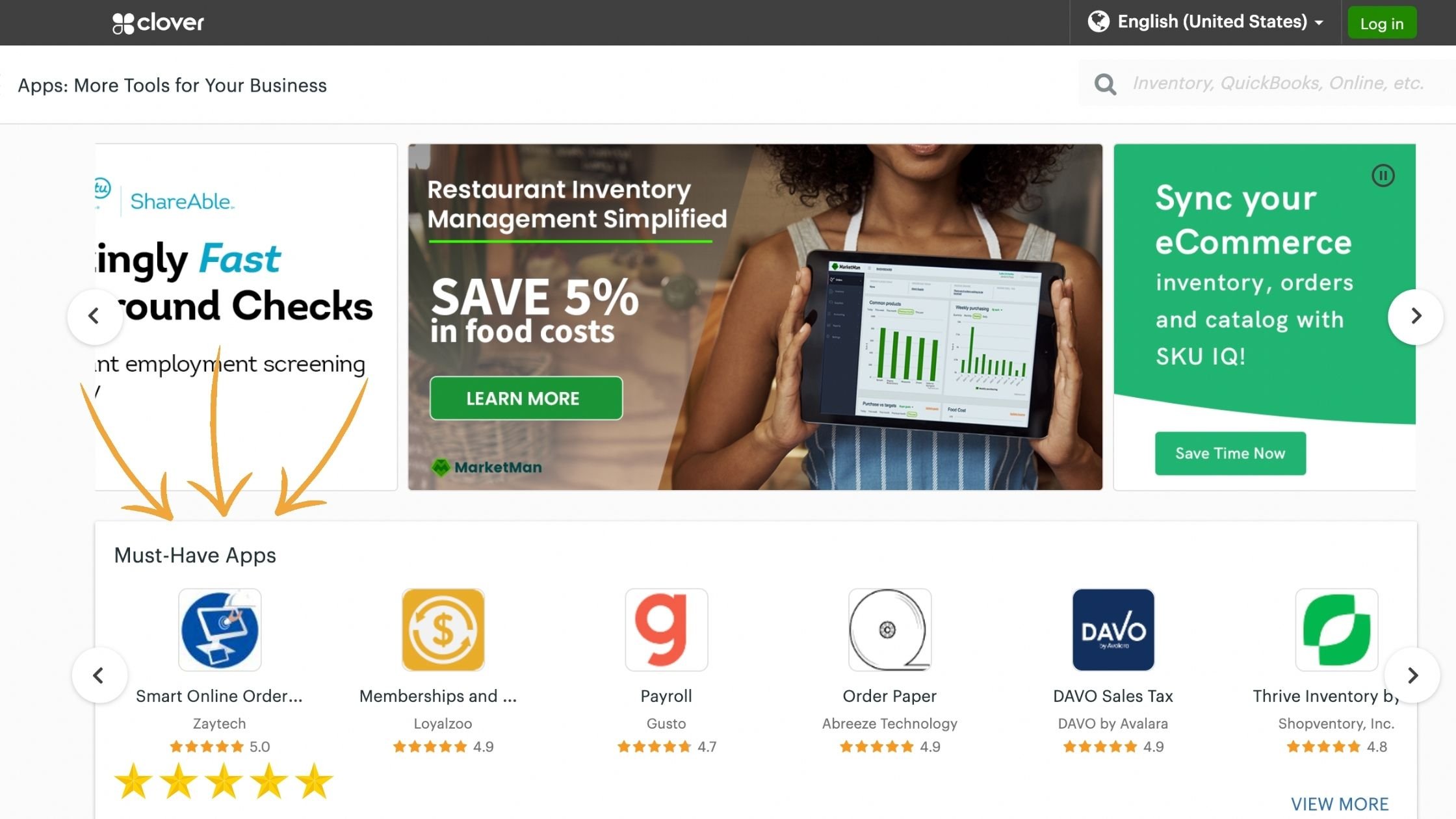 So what makes Smart Online Order so popular? For starters, it's extremely intuitive and easy to use. Customers can easily browse your menu and make their selections with just a few clicks. Plus, the app integrates seamlessly with your existing Clover POS inventory, so there's no need to set up a separate menu.
In addition, Smart Online Order offers the ability for restaurants to get their own white labeled Branded App.
The app will contain the colors and logos of the Restaurant in the iPhone and Android Marketplace, allowing businesses to take orders, process payments, track inventory, and much more.
Perhaps most importantly, the app offers a loyalty program, so restaurants can offer customers the ability to earn Rewards. With the Branded App, businesses can stay ahead of the competition and meet their customers where they are: on their mobile devices.
Another big selling point is the built-in Clover payment processing. Smart Online Order accepts all major credit cards as well as the ability for customers to pay at the location, so you can rest assured that you'll get paid for your orders. And if you ever have any questions or concerns, the friendly customer support team is always just a phone call or email away.
So if you're looking for an online ordering solution that will make your life easier and your customers happy, be sure to check out Smart Online Order.

Time Management App for Clover
Time Clock by Homebase is a great solution for small businesses that need to manage and pay hourly teams. With Homebase, businesses can use time clocks, employee scheduling, payroll, messaging, and HR all in one app. This makes it easy to keep track of employee hours and makes sure that employees are paid on time. It also allows managers to communicate with employees and stay up-to-date on employee schedules.
Homebase is also web-based which makes it easy for owners and managers to create and manage employee work schedules. With Homebase, you can create a schedule from anywhere, make changes on the fly, and instantly share it with your team. This makes it easy to keep everyone on the same page and makes sure that everyone is aware of any changes that are made. Homebase also offers a variety of other features, such as the ability to send automated reminders, track time off requests, and manage payroll. As a result, Homebase is a powerful tool that can help to improve communication and efficiency in any workplace.

Sales Tax Automation App for Clover
A popular Sales Tax Automation App in the Clover App market is called Davo Sales Tax. This app has been in the Clover App Market shortly after Clover launched. Therefore, they have had time to fine-tune their product.
Davo Sales Tax is an app that will help merchants automate sales tax calculation, remittance, and filing for their business. This is a big time saver for merchants because it eliminates the need to do these things manually. The app also offers a variety of other features such as the ability to manage multiple locations, create custom tax rules, and track payments. In addition, Davo Sales Tax offers excellent customer support and a money-back satisfaction guarantee.
Overall, Davo Sales Tax is a great option for businesses that are looking for a sales tax automation solution. The app is easy to use and can save businesses a lot of time and money.

Payroll Integration App for Clover
While many apps offer Payroll integration as part of their app's features and functionality. Gusto offers a comprehensive suite of payroll services that make it easy and affordable for small businesses to manage their payroll. Gusto is directly integrated with Clover, meaning that businesses can easily connect their payroll data to their point-of-sale system. This allows businesses to manage their payroll in real-time, ensuring that they are always compliant with state and federal regulations. In addition, Gusto offers a variety of other features that make it an essential tool for small businesses, including direct deposit, time tracking, and employee self-service.
If you've ever tried to manually sync employee hours between two systems, you know it can be a time-consuming and error-prone process.
Fortunately, Gusto integrates with leading time-tracking systems, including Homebase. This means that employee hours will be automatically synced between the two systems, saving you time and reducing errors.
Plus, with Gusto's support team, you can rest assured that any questions or issues you have will be quickly resolved.
As a result, Gusto is a great solution for a payroll services provider for Clover Merchants.

Donations App for Non-Profits
In today's society, it's easy to take the work of non-profits for granted. We expect them to be there when we need them, but we often don't think about the tremendous amount of effort that goes into keeping them running smoothly. Non-profits provide a vital service to our communities, and they deserve our support. They are often the first to respond in times of crisis, and they provide crucial assistance to those who need it most. They rely on the generosity of donors to keep their doors open, and they deserve our praise and gratitude for their dedication to making our world a better place.
Many Non-Profits don't realize that Clover also has apps that help with their causes. One such app is called "360 Donations."
360 Donations is an app that allows businesses to accept donations from customers through their Clover point-of-sale system. This is a great way for businesses to show their support for non-profits, and it can also be a great marketing tool. Customers that wish to support a campaign by the non-profit will be able to do so easily and conveniently. In addition, businesses that use the 360 Donations app will be able to track their donations and see how much they have raised for the cause.
Overall, the 360 Donations app is a great tool for customers that want to support non-profits. It's easy to use and provides a convenient way for customers to make donations. Plus, it's a great marketing tool that can help businesses attract new customers that wish to donate with the least amount of friction. There are many instances where someone would like to donate, but the technology or process is not simple enough. The 360 Donation app makes it easy for businesses and their customers to support non-profits.
360 Donations is just one of the great apps available in the Clover App Market. Be sure to check out the other great apps that are available to help your business run smoothly.